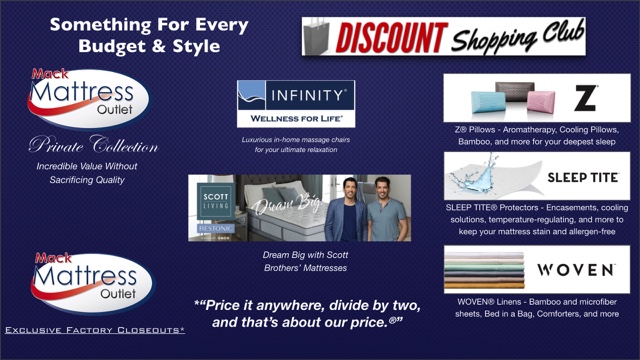 Get a $500 Mack Mattress Gift Certificate for just $250!
Mack Mattress Outlet was started by our family in 1974 to bring Central Ohio name-brand bedding at a huge savings. In these early years, we only carried clearance items (imperfects, discontinued items, etc.) from top manufacturers at about half the price you would pay anywhere else.
Today, we have expanded your choices to not only include the clearance items, but to also include first-quality bedding from various manufacturers. This gives you a huge selection at an unbelievable price. Our bedding is not marked up periodically in order to bring you a phony sale. You get everyday low prices… every day.
Much of our business is from repeat customers. Not only do they return, but they send their friends and family our way as well. Our customers trust us, our product, our price, and our service. Come in and see for yourself. With national brands and local service, "We're under you all the way™!"
David and Sherrie Bower
Owners
About Mack Mattress
Imperfects, discontinued items, overstocks, etc. from Simmons and other major brands at about half the price you would pay anywhere else. We invite you to "Price it Anywhere, Divide by Two, That's About Our Price". With hundreds of mattresses to choose from, you are sure to find one that is right for you. Best of all, you will be able to sleep knowing that you didn't pay too much.
Think of it this way. If you had two identical cars parked next to each. One costing $20,000, the other $10,000, but the $10,000 car had a small scratch on the bumper, which would you buy? That same philosophy holds true at Mack Mattress Outlet. We are in the habit of saving our customers hundreds (sometimes thousands) of dollars.



Find a Mack Mattress near you!
Terms & Conditions
Must be presented at time of purchase

Valid on mattress and box spring (or adjustable base) set

Not valid on previous purchases or with other offers

Not valid on sheets, mattress covers, pillows, special orders or delivery

Limit 1 voucher per customer every 30 days

Cannot be redeemed for cash
Have more questions? Call Natalia at 614-657-7188 for more information!